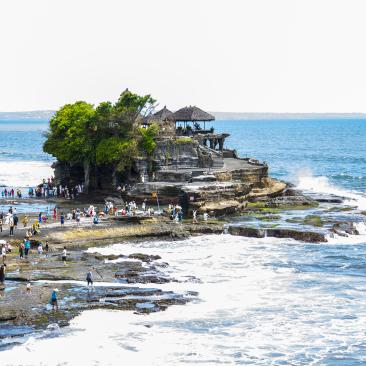 Natural beauty awaits you all around
Bali could be called the sea equivalent of the Amazon forest: it has incredible marine biodiversity, with the world's richest waters for corals and sealife.
The island is also known for its volcanic wooded mountains and both white and black sand beaches. Natural hotsprings are used by the locals for purifying and cleansing, but shhh! They are a hidden treasure.
Forests are not immediately associated with Bali, though there are quite a few to discover – especially the ancient forests in the north and centre of the island. The most visited is probably the Monkey Forest in Ubud as it hosts over 700 grey long-tailed macaques, but the Munduk Forest and its beautiful waterfalls or the Bedugul Forest located just behind the famous Bali Botanical Gardens are also worth a visit. The West Bali National Park hosts over a hundred species of wildlife and is best known as the sanctuary of the exotic white Bali Starling bird.
Finally, you can explore the self-sustaining rice terraces developed more than 1,000 years ago at Jatiluwih or Tegallalang.
Bali has a rich arts and culture heritage
Conversely to most of the Indonesia where Islam is the main religion, the majority of the Balinese adhere to a local form of Hinduism. This particularity is at the basis of Bali's unique culture.
Known as the "Island of a Thousand Temples" it hosts an estimated 20,000 Hindu Bali temples – or "Puras" – and shrines. Bali is also famous for its spiritual retreats, especially yoga and meditation retreats. Among their numerous celebrations, Balinese Hindus celebrate Nyepi, the Hindu New Year with a day of silence. On this day, everyone stays at home for self-reflection and the entire island – including shops and even the airport – remains completely shut down and silent. 
Visitors are treated to a plethora of traditional dances, sculptures, handcrafts, painting and woodcarving found nowhere else in the world.
If you love pets, you already have something in common with Balinese: in most homes, you will find at least two species of pets – from dogs, cats, birds to cattle, pigs and even chickens. Balinese even have an annual celebration for their pets.

There are also plenty of wild animals across the island, starting with macaques. The cave temple of Goa Lawah is home to around 1,000 bats, worshipped by the Hindu believers.

To find more great reasons to join us in Bali at the 9th FSC General Assembly 2020 please visit the Bali Tourism Board webpage.